Two days from now it's my birthday, do I need to shout it here =). I don't have plans yet on my birthday. But the options are cook a little like family's all time favorite spaghetti and celebrate it at home, maybe daughter and I will go out and have a date. Another option is the family will eat in a fine-dining restaurant that has premier for custom tablecloth. Need to find restaurant that has nice ambiance and good table setting before my special day.
If you need to plan a vacation or extravagant getaway, the information available on the website NYCtrip.com will be an invaluable aid. Here you can find everything from hotel information, to Broadway show packages and tickets. The site is a useful collection of links and referrals to get information on sightseeing, traveling to and from New York City as well as information on popular attractions and other things to do.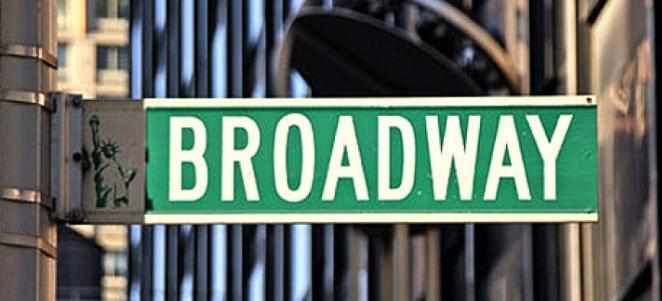 You can get information to plan your personal itinerary such as show times and schedules for your must see performances including Wicked, Jersey Boys or The Book of Mormon. You can use the websites booking tools to plan your vacation based on dates, and things that you want to do.
Begin by searching for affordable hotels or other accommodations in the city. From there, you can add shows to Broadway performances, or book sight seeing tours or seats on a bus that will give you a good overview of the big apple.
Get dining suggestions and book reservations to world class restaurants including Le Cirque, or Bouchon. You can book transportation to and from famous landmark sites such as the Statue of Liberty, the Brooklyn Bridge, as well as guided tours of central park and more.
NYCVP is a one stop collection of booking information and travel suggestions that will help you create a once in a lifetime trip to New York City.
Happy mother's day to all mommies around the world. Today we are celebrating Mother's Day as tribute for all the love, cares, and sacrifices they are giving to her family. I am a mother itself and happy because my daughter who is 5 year-old gave me fresh red rose when I woke up this morning. She even uttered the word "Happy Mother's Day". I asked her where did she get the flower and told me it was bought by my sister. What a great surprised from my daughter and thank you also to my sister. Anyhow, aside from this celebration my brother-in-law is celebrating his birthday today. I'm thinking if montecristo cigars is the perfect present for him.
We had been in Ilocos Norte twice. I think the first one was 3-4 years ago. We didn't enjoy everything in Ilocos during our first visit. I think we only visited Marcos area and Paoay municipality due to lack of time. Now, that we came back in this beautiful province. We enjoyed our come back visit in Ilocos Norte and Ilocos Sur.
Anyhow, the family first adventure experienced in Ilocos Norte was  Sand Dunes
4×4 Adventure. The family didn't plan to do this breathtaking adventure. We only saw the signage Sand Dunes 4×4 Adventure and Sand boarding while heading to Windmills Seashore.
The family didn't think twice and went to the area. After a short conversation to the people managing the place we decided to try this adventure. It was our first time to do such kind of adventure but it was exciting, electrifying, fun at the same time nervous because of the different paths we went through.
There were easy paths, sometimes slow and then went to exciting and deep paths. There's also an area called roller coaster so it's really exciting and breathtaking. We all shouted to the fullest every time we were passing in deep paths.
I never thought we have this beautiful place in Ilocos Norte. It's little Dubai as they called it. You can also witness the beautiful Suba Beach at the back of my daughter and mother in photo below.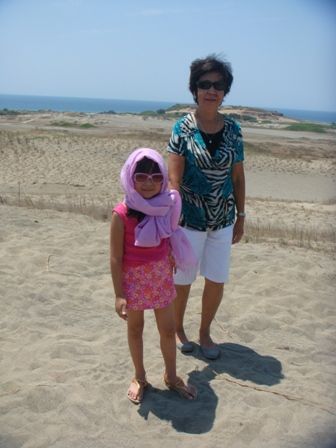 This is the area for Sand boarding. My daughter didn't do sand boarding because its really hot that time but she didn't miss the chance to use this thing used for sand boarding. It was hot afternoon when we went there, I advised you to come early in the morning. Doing this late in the afternoon is not advisable because you won't see the beauty of this place.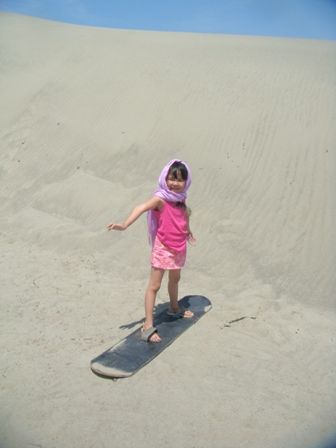 Well, the whole experienced was fun. Sand Dunes 4×4 Adventure is one of a kind journey and I will do it again if given a chance.
One thing that I noticed, they are lacking safety thing like seat belt so I hope they will work on this thing and besides it's for the safety of the passengers. I forgot to ask the name of our 4×4 driver but he was kind and always reminds us to hold tightly every time we are passing in a hard and deep paths.
For your info this place is a protected area that was provided with landscapes creating a spectacular view of original nature. It has been a shooting place of some local and Hollywood movies such as Ang Panday, Mad Max and Born on the Fourth of July.